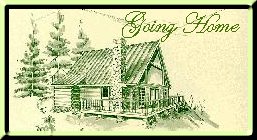 Wildgame Recipes for
Venison
Long before the wealth of groceries and specialty shops existed, Native Americans and settlers alike depended on the abundance of wild game and fish to exist. They weren't used for trophies or bragging rights,but as a means of survival.Only what was needed was taken,leaving the other animals for other people who dependent on them.Along with native plants, many dishes were developed with cultures knowing no boundaries when it came to survival. The recipes below are just a few fathered by necessity at times and sometimes because the taste is still appreciated.I've tried to give credit whenever possible.
I have tons of recipes and no space to post them,so please don't hesitate to ask if you need something not listed here.Hopefully,the recipe needed will be in my files.Trish
4 to 6 venison steaks
1 to 1 1/2 c. Wishbone Italian dressing
3 tbs. oleo
1 to 2 beef bouillon cubes
cold water to make gravy
1/2 c. chopped onion
1 clove garlic
1 c. sour cream
2 tbs. flour
1 tsp. salt
1/2 tsp. pepper
Add chopped onion and garlic to Italian dressing.
Marinate steaks in dressing for several hours, using enough to cover steaks. Heat oleo in skillet. Dry steaks with paper towels, making sure no bits of onion or garlic cling to meat.
When drop of water sizzles in skillet, put in steaks. Fry fast, just a few minutes, until both sides are browned. Remove steaks; reduce heat. Mix cold water with flour to make gravy.
Put in skillet, gravy mixture, salt, pepper, sour cream,bouillon cubes and marinade mixture. Heat to bubbling, stirring constantly. Simmer until mixture separates and oleo shows. Add steaks to gravy and heat through. Serve piping hot with gravy.
---

Breaded Cutlets
(Schnitzel)

8 boned loin cutlets (venison or antelope)
2 tbs. flour
3 tbs. Parmesan cheese,grated
1 egg, beaten
1 tsp. parsley, minced
1/2 tsp. salt
1/4 tsp. pepper
1/4 tsp. nutmeg
1/2 c. milk
6 tbs. butter
juice from 3/4 lemon

Wipe meat with a damp cloth; pound with the back of a
knife or meat mallet until quite thin; dip in flour. Mix
cheese, the 2 tablespoons flour, egg, parsley, salt, pepper,
nutmeg and milk; beat until smooth. Dip floured cutlets into
the batter. Cook over low heat in 4 tablespoons butter until
golden brown and tender. Remove cutlets to a heated platter
and keep warm. Heat remaining butter (2 tablespoons) until
darkened. Add the lemon juice. Stir and pour over cutlets.
Serves 4.

---

Baked Deer Steak

6 deer steaks, sliced thin
flour, salt, pepper, butter
1 can mushroom soup
1 can water

Mix flour, salt and pepper. Roll tenderized steak in mixture. Melt butter in skillet and brown steak on both sides.
Mix one can of mushroom soup with one can of water in baking dish. Place steak in dish and bake at 350°until meat is tender
---

Deep Fried Deer Meat

1 c. milk
2 tsp. red pepper
2 tsp. garlic powder
flour
deer meat
salt and pepper to taste

Cut deer meat across grain; will be small pieces
usually. Soak in milk, red pepper and garlic powder until the
milk is soaked up. Salt and pepper; dredge in flour. It
doesn't take long to deep fry, just until done. It will be too
hard if overcooked.

---

Fried Deer Meat

1/4 to 3/8 inch slices deer
hindquarter or tenderloin
cold water
salt
pepper
pure lard

Soak deer meat in salty water 2 to 3 hours. Drain meat and beat pieces with the small end of a Coke bottle. Salt and
pepper pieces to taste. Coat with flour and allow to sit until flour becomes "dough-like". Then put back in flour again.
Shake off excess flour and fry in pure melted lard until golden brown.

---

Fried Venison Strips

2 to 3 lb. back strap(tenderloin), cut in strips
1 c. milk with 1 egg, mixed well
flour seasoned with 1 Tbsp.Creole seasoning
1 pkg. McCormick meat marinade
Wesson oil

First take the back strap (tenderloin) from a deer you haven't chased all over the place. Good venison is like good beef, you do not want it tough from too much exercise.(In that case,I should be tender as butter.) Unlike beef, venison should be trimmed of all fat and membrane, just red meat. Cut the meat in finger size portions or slightly larger. Cover cut venison with McCormick meat marinade as per instructions on package, overnight if possible.
Take out of marinade just prior to cooking. Dip meat into egg
and milk; then roll in flour mixed with Tony Chachere's Creole
seasoning (Cajun). Fry in Wesson oil until golden brown.
Remove and drain on paper towel.

---

Country Style Venison

1 1/2 lb. venison, 3/4 inch thick
1 c. all-purpose flour
salt and pepper
1/4 tsp. seasoned salt
4 tbs.. bacon drippings
2 cloves garlic, minced
1 qt. water
1/3 c. all-purpose flour
1 1/2 tsp. Kitchen Bouquet
1 medium onion, thinly sliced
1 bell pepper, thinly sliced
1/2 lb. fresh mushrooms,
sliced
hot cooked rice

Trim all fat and connective tissues from venison. Cut meat into serving size pieces and pound each piece to 1/4 to
1/2 inch thickness. Combine 1 cup flour, seasoned salt, 1/4 teaspoon salt and 1/8 teaspoon pepper; dredge venison in flour mixture. Heat 1 tablespoon bacon fat in large, heavy skillet.

Add garlic; sauté until golden. Remove garlic; set aside. Add remaining fat to skillet; cook venison until lightly browned n both sides. Remove from skillet and set aside. Mix 1/2 cup batter and 1/3 cup flour until smooth. Add remaining water; stir flour mixture into skillet with fat. Cook over medium eat, stirring constantly until thickened. Stir in Kitchen bouquet, 1/2 teaspoon salt and 1/8 teaspoon pepper.

Return venison and garlic to skillet and cover. Reduce heat; simmer or 30 minutes. Add onion and bell pepper; cover and simmer or 15 minutes. Add mushrooms; cover and simmer for 15 minutes. Serve over rice.

---

Sausage in Biscuit

1 cup flour
1 egg
1/2 teaspoon salt
1 cup milk
1 tsp. baking powder
6 elk sausages
2 tbs. dripping or bacon fat

Sift together the flour, salt and baking powder into a bowl, make a hollow in the center, break the egg into this and add half the milk. Mix and beat to a smooth batter, adding the remaining milk gradually.

Parboil the elk sausages, skin and split them, then place them in a roasting pan in which the drippings have been melted and
heated. Pour the batter over them and bake in a moderate oven- 350° to 375 ° F. for about half an hour. Cut into squared
for serving and serve plain or with brown gravy or tomato sauce.

---
2 lb. ground moose
1 8 oz. jar mild picante sauce
1 cup diced onion
1/4 white vinegar
1 cup green pepper, diced
1 package Taco Spices &Seasonings Mix
1/4 cup brown sugar
1/4 cup white vinegar
Brown ground moose in skillet with onion and drain on paper towels.
Return mixture to skillet and add green pepper, Taco Seasoning, brown sugar, chilies, picante sauce and white vinegar. Cover and simmer 1 hour until thickened. Serve on hamburger rolls. Serves 6

---
1 whole liver, sliced
1/2 cup flour
1/4 cup bacon grease
1 can beef broth
2 tbs. tomato paste
1/2 onion, cubed
3 garlic cloves, minced
1 bell pepper, sliced
1/4 tsp. chili powder
pinch of oregano
pinch of black pepper
salt to taste
Heat bacon grease in a fry pan. Coat liver with flour, brown on both sides.
Sprinkle some more flour on the liver then add enough water to cover the liver about 3/4. Cook until the water is almost cooked away, turn the liver and repeat. Move the liver and remaining broth to a casserole dish,
pre-heat oven to 325°.
Add beef broth, tomato paste, onion,garlic, chili powder, oregano, black pepper, bell pepper, and salt to taste. Stir, cover, and bake at 325° for about 1 hour.
Make good use of the gravy, it is delicious as well. Makes 2 servings

---

Antelope Steak Pie

FOR THE CRUST:
1 cup flour
1/2 cup shortening
1/4 tsp. salt
1/2 cup mashed potatoes
1 tsp. baking powder
1 cup water

FOR THE FILLING:
1 1/2 lb elk steak
1/3 tsp. pepper
2 tbs. flour
1/8 tsp. ground cloves
1 tsp. salt

Sift together the flour, salt and baking powder; cut or rub in the shortening,add the mashed potato and mix to a dough with the water, then chill while preparing the meat. Cut the steak into thin strips, dip each in the flour,salt, pepper and cloves which have been stirred together. Put a small piece of fat in the center of each strip of meat, roll up and place in a deep baking dish or casserole.

Half fill the dish with water, cover closely and bake in a slow oven for one hour,after which remove the cover, roll out the crust and put it in place over the meat; return to and bake twenty-five minutes longer. A few small pieces of kidney, or oysters or mushrooms may be cooked with the meat to give variety in flavor.
---

Venison Casserole

Yield: 4 servings

1 lb ground venison or beef
1 sm. onion
1 can cheddar cheese soup
1 can cream of celery soup
frozen french fries
pepper

Dice onion and mix with ground meat and pepper to taste (use *lots*).
Press into the bottom of a 9x9" pan.
Mix together the two cans of soup - do *not* dilute with water. Spread mixture over the meat.
Cover entire surface generously with frozen french fries.
Bake at 350 for 40 minutes or until done - fries should be golden and
crispy.
---

Elk Barley

2 qt. elk stock
6 oz pearl barley
1/3 cup mushrooms
2 carrots, diced
4 tbs. butter
1 stalk celery, chopped
2 potatoes, diced
sour cream
salt
pepper

<>Wash the barley and cover with 1 cup of meat stock. Bring to boil and simmer until tender. Add the butter slowly. In the remaining broth, boil the vegetables and mushrooms. Then add the cooked barley, Elk and season with salt and pepper. For a garnish, add a few tablespoons of sour cream to the top.

For stock: Boil elk and bones with 3 oz. beef base or 1 tablespoon salt until tender. Remove elk from stock, strain and reserve.
When cooled, remove meat from bone, discard bones.

---

Venison Bigos

1/2 pound venison, cubed
1/2 pound lean pork, cubed
1/2 pound venison sausage, sliced 1/2" thick
1/2 pound bacon, diced
1 can beef broth, (10 1/2 oz)
1 large onion, diced
8 ounces fresh mushrooms, sliced
1 cup red wine
1 tbs. mild paprika
salt and pepper, to taste
2 cans sauerkraut, (32 oz total)

In a Dutch oven, fry the bacon until crisp, then remove and drain, leaving grease in pan. Sauté onion and mushrooms in drippings until softened, then remove and drain them. Pour off all but 1/4 cup of drippings.
Brown the meats. Add the bacon, onions, mushrooms, and remaining ingredients, except sauerkraut. Bring to a simmer, stirring. Cover and simmer for 2 hours. Add drained sauerkraut and simmer 20 more minutes.
---
Elk and Sausage Pie
Best of the Best from Texas
1 pound ground elk
1/2 cup bread crumbs
1 tsp. onion powder
1 (9 inch) unbaked pie shell
3 sweet Italian sausages
2 tomatoes
1 cup grated cheddar cheese
12 small green chiles, (canned)
Combine ground elk, bread crumbs and onion powder. Mix well, and press into pie shell. Remove sausages from casings, mash, and spread evenly over meat mixture, leaving 1/2 inch edge. Bake at 350°F for 30 minutes. Remove from oven.
Peel and slice tomatoes. Halve each slice and arrange around edge of pie. Sprinkle tomatoes with grated cheese. Arrange chile peppers spoke-fashion, inside circle of tomatoes. Return to oven at 350° F, for 10 minutes more. Serve hot. Number of servings not given.
Elegant Elk Delicious Deer

---
Chicken Fried Venison
Texas Celebrity Cooks
2 pounds meat (may be nice slices 1/4 inch thick, or the small bits you get when trimming out hocks) then beat flat with board
13 ounces evaporated milk
salt and pepper
flour
garlic powder, optional
onion powder, optional
Put the meat in a large bowl with the evaporated milk and enough water to completely cover the meat.
Allow to stand for 1 hour. Take the meat out, drain only slightly and then season to taste and roll in the flour. Drop into hot grease (375 °F) and fry until brown. Do not overcook or the meat will become
dry and tough. Serve with gravy made from flour and some of the milk left over and good hot bread.
---
("...The results of this recipe taste more like beef teriyaki and can be
used with domestic liver. With venison liver it's a dream.")
1 1/2 lb. fresh or defrosted deer liver
2 tbs. vegetable oil
1 clove garlic, crushed
Small piece fresh ginger (can use pinch of ginger powder but fresh is best)
1 tbs. sugar
12 scallions, sliced
3 tbs. soy sauce
1 tbs. sherry, port wine or straight brandy
1 tbs. cornstarch
1 tbs. water
Cut liver into bite size pieces, first removing any membrane. Sauté the garlic in hot oil for one minute. Add liver and sauté for three more minutes. Sprinkle on chopped ginger and sugar. Add scallions. Sauté two minutes. Add soy sauce and sherry. Heat through. Blend cornstarch with water and add while stirring quickly and continue simmering until heated through. The trick is cooking for only the briefest time. Serve either over rice or with potatoes and sautéed vegetables of choice. Serves 4.
Source: Outdoor Life Exclusive: Deer And Big Game (1991-'92)
---
2 pounds ground venison
1 onion, chopped
1 parsnip, sliced
3 potatoes, cubed
3 medium carrots, sliced
1/2 rutabaga, peeled and cubed
1 can (18 ounces) whole tomatoes
3 beef bouillon cubes
3 cups water
1/2 head cabbage, cut in chunks
1 bay leaf
1/2 tsp. dried oregano
1 tsp. salt, or to taste
1/2 tsp. ground black pepper

Brown meat and onions. Add the rest of the ingredients and simmer 1-2 hours.
Makes 6 servings
---
2 lb caribou steak, cut in strips
1/2 c flour
1/4 tsp. pepper
1/2 c shortening, lard or bacon grease
1 can stewed tomatoes, save juice
2 c water
2 beef bouillon cubes
2 tsp. worcestershire sauce
3/4 tsp. salt
3/4 c chopped onion
1/2 tsp. garlic powder
3 green peppers, cut in strips
steamed rice
Melt the lard in a large skillet. Dredge the caribou in the flour and pepper mixture. Brown the meat in the hot fat, add the liquid from tomatoes,water,onion, garlic powder & bouillon cubes. Cover & simmer 1 1/2-2 hr.. Uncover,stir in worcestershire sauce, add pepper strips, cover & cook 10 minutes more.
Add the tomatoes, cook until tomatoes are hot. Serve over hot cooked rice.

---
Broiled/Grilled Caribou Steaks
6 1/2" thick caribou steaks
bacon fat or lard
BASTING SAUCE:
1 1/2 c red wine
3 tbs. oil
1/8 tsp. ground ginger
1 dash hot pepper sauce
salt and black pepper
Combine all the basting sauce ingredients and soak the venison slices in
the sauce for at least 24 hours. Pour off and reserve the sauce. Put the meat on a board and pat it dry, then nick the edges of the slices and rub them all over with the fat.
Heat the grill to medium-high and grill the steaks until medium-rare.
Baste the meat with the reserved basting sauce while cooking and turn it once.When done, transfer the slices to a warmed serving platter, and serve at once,with the remaining sauce in a sauce boat.

---
5 backstrap, tenderloin, or shoulder steaks*(click)
2 large onions, cut into thin, long strips
4 large, fresh tomatoes, or two 8 oz. cans whole, peeled tomatoes
1/4 cup olive oil
salt & pepper
Worcestershire sauce
Heat oil in large saucepan and brown steaks on both sides. Add rest of ingredients. Cover, turn heat to medium-low and simmer for 30-45 minutes. Serve fresh over a hot bed of rice or noodles, or just eat plain.
*elk, deer, moose or antelope will all work fine
---
Backstrap is my favorite part of a deer.These are good.
2 venison backstraps
2 cups all-purpose flour
2 tbs. granulated garlic
salt & pepper to taste
Heat the bacon drippings in a deep fryer until hot. Combine all dry ingredients in a brown paper bag and shake well to mix. Slice backstraps into 1.5" wide strips. Place venison strips in bag and shake to cover well with the dry ingredients. Deep fry the floured strips until slightly darker than golden brown.
---
3 tbs. butter
1 Pound Portabella mushrooms,raw,sliced
3 red onions,raw,finely chopped
1/3 cup flour,all-purpose
2 tsp. salt
1/2 tsp. paprika
1/2 tsp. cayenne pepper
3/4 tsp. multi colored peppercorns, fresh ground
2 pounds venison steaks, 1 inch thick
1/3 cup butter
5 garlic,cloves,raw, crushed
pinch rosemary leaves
1 1/3 cups beef stock
Melt butter in skillet; add mushrooms and onions and sauté until tender.
Place mushrooms and onions in shallow, 2 quart casserole and set aside. Combine flour,salt, paprika,cayanne pepper and peppercorn; dredge venison in flour mixture.
Melt butter in skillet, add venison, and brown well. Place venison over onions and mushrooms in casserole. Top with garlic and rosemary. Pour beef stock over top. Loosen browned particles from skillet and add to casserole. Cover an bake 350 degrees Fahrenheit for 45 minutes. Serve with sauce over egg noodles

---
1 lb ground venison
1 can (16 ounce) whole tomatoes
1 green pepper, seeded and finely chopped
1 onion, finely chopped
1/2 cup raw long grain converted rice
1 tsp. salt
1/2 tsp. leaf basil
dash pepper
4 slices American cheese, cut into triangles
Place all ingredients except cheese in crockpot. Stir thoroughly to mix ground venison with other ingredients. Place 4 cheese triangles on top. Cover and cook on LOW for 7 -10 hours.
Before serving, top with remaining 4 cheese triangles. 4 servings (about 2 quarts)

---
Ozark-style Venison Stroganoff
6 servings
1 1/2 lb venison
1 marinade recipe for game
all-purpose flour
1/4 c vegetable shortening
1 can mushrooms 6 oz
1 onion, finely chopped
1 garlic clove, pressed
1 can cream of tomato soup
1/4 tsp. hot sauce
1 tbs. worcestershire sauce
1/2 tsp. salt
1 1/2 c sour cream
Cut venison into 1 1/2 inch cubes and place in a bowl. Pour your favorite marinade over; marinate several hours, turning occasionally. Drain off marinade. Dredge venison with flour; brown in the hot shortening in iron skillet. Drain mushrooms and reserve liquid. Add onion, garlic, and mushrooms to venison. Combine soup, reserved mushroom liquid, hot sauce,Worcestershire sauce, and salt; stir into venison mixture. Simmer 1 hour and stir occasionally. Stir in sour cream just before serving; heat through but do not boil. Serve over rice or mashed potatoes. One quarter pound fresh mushrooms, sliced and sautéed in butter, can be substituted for the canned mushrooms. Serve.
---
BUTTER SAUCE:
1/2 c butter
1/4 c minced onion
2 ts Worcestershire or soy sauce
1/2 ts dry mustard
1/2 ts freshly ground pepper


In small saucepan, combine ingredients. Heat together until butter melts.Broil 3 to 4 inches from heat for 10 to 12 minutes each side for rare, 14 to 16 minutes for medium, brushing with butter mixture.
---
1 lb ground venison
2 tbs. vegetable oil
1 small onion, diced
12 eggs
1 can Jalapenos (small), diced -Use green chilies if you like it mild
1 lb cheddar cheese, mild or sharp
Brown ground venison in vegetable oil with onion and season to taste. Pour off any excess grease.
Break eggs and add diced jalapenos. Stir over medium heat until eggs are nearly cooked. Sprinkle cheese over top. Remove from heat and let sit for 2-3 minutes. Serve with salsa or sour cream.
---
1 lb spicy venison sausage
2 tsp. onion salt
2 tsp. garlic salt
1 can 16 oz. whole tomatoes
1 can 15 oz. tomato sauce
3 tbs. dried parsley flakes
1 tsp. sugar
1 tsp. basil leaves
2 tsp. salt
1 can 8 oz. mushroom pieces
6 uncooked lasagna noodles
1 pk 16 oz. pkg. ricotta cheese
1/2 c Parmesan cheese
1 1/2 tsp. oregano leaves
2 c shredded mozzarella cheese
Cook and stir sausage, onion and garlic salt in 10 inch skillet until sausage is light brown. Drain. Add tomatoes (with liquid), tomato sauce, 2 tablespoons parsley, sugar, basil, 1/2 teaspoon salt and mushrooms. Heat to boil, stirring occasionally. Reduce heat. Simmer uncovered until mixture is consistency of thick spaghetti sauce, about 1 hour. Cook noodles as directed on package.
Reserve 1/2 cup of the sauce mixture. Mix ricotta cheese, 1/4 cup Parmesan,1 tablespoon parsley, 1 1/2 teaspoons salt and oregano. Layer 1/2 each of the noodles, remaining sauce mixture, mozzarella cheese and ricotta cheese mixture in ungreased oblong pan, 10X6X2 inches. Repeat above process until you have 2 layers. Spoon reserve sauce on top, top with mozzarella and sprinkle with Parmesan. Cook uncovered at 350°F for 45 minutes. Let stand 15
minutes.
---
2 tbs. olive oil
1 md bell pepper; chopped
2 md onions; chopped fine
2 cl garlic; crushed
1 lb venison; ground
1 lb venison; cut in chunks
8 oz tomatoes; canned
4 tbs. tomato paste
1 bay leaf
1 tsp. ground cumin
1 tsp. oregano
1/4 tsp. cayenne pepper
1 tbs. chili powder; mild
salt and pepper; to taste
1 c beef stock
2 tbs. dark brown sugar; to taste
2 can chili peppers; small
14 oz red kidney beans, canned
Recipe by: Uncle Buck's Venison, Littleton, NH
Heat olive oil in large saucepan. Add onions, garlic and bell peppers. Fry until soft. Brown all meat and add to above.
Stir in tomatoes, tomato paste, seasonings and beef stock with a wooden spoon.(It is my opinion that tomatoes pick up a metallic taste from metal spoons--Trish)
Bring to a boil. Reduce Heat to low and cover. Add chili peppers. Simmer for two hours, stirring occasionally. Add kidney beans and simmer for another 30 minutes. Remove bay leaf and serve.
---
1 1/2 lb venison; ground
1/2 c bread crumbs, dry
1 egg; beaten
1 tsp. salt
1/2 c potatoes; mashed
1/2 tsp. sugar, brown
1/4 tsp. pepper
1/4 tsp. allspice, ground
1/4 tsp. nutmeg, ground
1/8 tsp. cloves, ground
1/8 tsp. ginger, ground
1/4 c butter (or marg.); melted
Orange slices; opt. Lemon slices; optional. Parsley sprigs; optional.
Combine first 11 ingredients, mixing well. Shape into 1" balls. Brown well in butter, stirring occasionally. Cover and cook over low heat 15 minutes. Arrange on serving platter; garnish with fruit and parsley, if desired.
SOURCE: Southern Living Magazine, March 1980.
---
1 lb ground venison
6 c unbleached flour
1 1/2 c buttermilk
4 tbs. butter or margarine
4 tbs. honey
1/2 tsp. salt
1 package of yeast
1/4 c warm water
3 c grated cheese
1 sm. onion, chopped
2 can pizza sauce
chives (optional)
oregano
garlic powder
pepper
thyme
First, measure flour into large bowl.
In a separate container combine buttermilk, butter, honey and salt. Heat the buttermilk mixture to lukewarm.
Dissolve yeast in warm water. Add yeast and milk mixture to flour and combine to make a firm dough. Turn dough out and knead for about 6 minutes,or until it is smooth and elastic. Put the dough in a greased bowl, cover and let rise until double in bulk, about 1 hour.
While dough is rising, prepare the toppings. Grate plenty of cheese. Chop some onions and some wild chive if you have some handy. Fry venison, crumbling it as you fry.
When dough has risen, punch it down, divide it in half, and roll out the two parts to fit your baking sheets. The dough should be about 1/4 inch thick. Let the rolled out dough rise for about 15 minutes. Spread a generous amount of pizza sauce on the dough. Sprinkle on plenty of oregano, garlic powder, pepper and a little thyme. Top with grated cheese and the crumbled venison. Bake at 350°F for 20 to 30 minutes.
---
Venison Stew with Potato Dumplings

1/4 c shortening
1/4 c all-purpose flour
1 1/2 tsp. salt
10 1/2 oz can beef broth; undiluted
5 c water
2 tbs. lemon juice
1 md onion- sliced
2 cloves
1 bay leaf
3 lb venison stew meat; cut into 1-1/2" pieces
1/2 c burgundy (optional)
2 lb potatoes- peeled
4 sl white bread
1 tsp. salt
1 tbs. onion- grated
1 tsp. parsley flakes
2 eggs; well beaten
all-purpose flour
Melt shortening in a large Dutch oven over low heat; add flour, stirring until roux is the color of caramel. Add 1-1/2 teaspoons salt and next 6 ingredients;boil 5 minutes. Add venison; cover, reduce heat, and simmer 2 hours. Add Burgundy, if desired.
Shred potatoes; drain well. Remove crust from bread, and discard; tear bread into 1" pieces. Combine bread, potatoes, 1 teaspoon salt, 1 tablespoon onion,parsley, and eggs. Roll balls lightly in flour.
Drop dumplings into simmering stew. Cover, and cook over low heat 20 minutes or until dumplings are done. Remove bay leaf. 8 servings.
Anne Temple Keuhler of Texas, in December, 1987 "Southern Living"
---
5 lb venison, cut 1/2 inch cubes
onions (equal meat in volume
1 c fine chopped bell pepper
1/2 lemon, chopped fine
2 tsp. garlic, chopped fine
Louisiana hot sauce to taste
salt to taste
2 tbs. Worcestershire sauce
1 c chopped fresh parsley
olive oil
Salt and pepper meat and brown in olive oil. Put in heavy pot with all other ingredients. Cook on low heat from 6 to 8 hours until venison is tender. Serve over rice. Do not add any other liquids, but stir occasionally. For measuring the onions, by volume, we mean if you have a cup of meat, then you need a cup of onions. From Justin Wilson's Gourmet and Gourmand Cookbook
---
1/4 c cranberry juice
1/4 c olive oil
1/4 tsp. fresh garlic
1/4 tsp. onion salt
1/4 tsp. celery salt
1/4 tsp. black pepper
1/4 tsp. sweet basil
1/8 tsp. ginger
mushroom
onions
green peppers
cherry tomatoes
Recipe by: Uncle Buck's Venison, Littleton, N.H.
Mix juice, oil and spices.
Marinate the venison kabobs overnight or at least 4 hours in the refrigerator.
Thread the kabob on skewers. Alternate skewered meat with mushrooms,onion and green peppers. Grill over hot fire for several minutes. Do not overcook.
While cooking, baste meat and vegetables several times with leftover marinade.
Serve on a warmed platter.
---
16 venison cutlets (3 oz ea.)
2 tbs. olive oil
1 tbs. fresh chopped basil
1 tbs. fresh chopped chervil
1 tbs. fresh chopped cilantro
1 tbs. fresh chopped mint
1 tbs. fresh chopped flat parsley
2 tbs. sesame oil
1 tbs. chopped garlic
2 tbs. chopped shallots
2 tbs. unpeeled grated ginger
2 tbs. soy sauce
1 1/2 c chicken broth
1 tb butter
Cervena sponsored a contest involving some of America's best chefs. One of the finalists was Philippe Chin or Chanterelles in Philadelphia, with this recipe.
In a large skillet, heat olive oil over medium high heat. Sear cutlets quickly to desired doneness; remove from pan and keep warm. Mix herbs together; coat each cutlet with sesame oil and herbs.
Add garlic, shallots, ginger, soy sauce and chicken stock to pan juices.Simmer about 8 minutes. Swirl in butter; return to simmer. Arrange venison slices on plates and spoon sauce over each. Serve immediately.
---
2 lb venison ribs
salt & pepper
2 tbs. brown sugar
16 oz tomato sauce
vegetable oil
2 tbs. vinegar
1 tsp. prepared mustard
In a 2 qt. baking dish or roaster arrange ribs. Brush lightly with cooking oil & sprinkle with salt & pepper. Bake at 325-350 ° until fairly well done,turning once. Pour off any juices. Combine vinegar, brown sugar & mustard with tomato sauce & pour over ribs. Bake until done, basting occasionally with sauce.
---
3 lb leg roast elk or deer
5 slices salt pork
onion
apple
1 tsp. salt
1/4 tsp. pepper
1/4 tsp. allspice
2 sprigs of rosemary
2 bay leaves
Cut gashes in roast about 2 inches apart and half through the thickness of roast. Place in each gash a slice of salt pork, onion and apple. Top with a few more slices of onion. Sprinkle roast with spices and herbs. Place meat on a rack in a roasting pan. Bake in 300° F. oven until done, 2 to 4 hours,depending on tenderness of meat. Remove herbs before serving.
Source: Agricultural Extension Service The University of Tennessee Institute of Agriculture
---

Venison Burgers


1 lb ground venison
3 oz pork fat back, ground
salt
freshly ground pepper

Because venison has so little fat, you'll need to add some for a juicy burger.But don't use deer fat - it tastes bad.)
Mix venison, pork, salt and pepper, handling as little as possible. Heat grill.Brush burgers with vegetable oil and grill about 4 minutes; turn and cook to desired doneness. Serve on rolls with your choice of condiments.

---
2 lb smoked venison sausage
1 sm. onion; thinly sliced
14 1/2 oz can stewed tomatoes
1 tsp. dried whole oregano
1/4 tsp. pepper
4 md potatoes; thinly sliced
4 md carrots; thinly sliced
Remove casing from sausage, and discard. Brown meat in a large, lightly greased skillet over medium heat, stirring to crumble. Remove sausage, and drain well, reserving drippings in skillet. Sauté onion in drippings; drain well,and discard drippings. Combine onion, tomatoes, oregano, and pepper in skillet. Simmer until thoroughly heated; remove from heat.
Arrange potatoes in a lightly greased 13" x 9" x 2" baking dish. Top with carrots. Sprinkle sausage over carrots; spoon tomato mixture over sausage.
Cover with aluminum foil. Bake at 350°F for 45 minutes. 8 servings.
Note: Thinly sliced Polish sausage may be substituted for venison sausage, if desired.
Ann Temple Keuhler of Texas, in December, 1987 "Southern Living".

---
2 1/2 lb chuck or rump (elk or deer)
1 tbs. margarine or butter
2 c tomato juice
1 tbs. salt
1 clove garlic
4 medium potatoes
6 carrots
Brown meat slowly in margarine or butter. When well browned add tomato juice, salt and garlic. Cover lightly and simmer until tender, about 3 1/2 hours.
Add potatoes and carrots about 45 minutes before meat is done.

---
4 pieces of steak (elk or deer)
2 slices bacon
1/2 chopped onion
2 tsp. sugar
1/4 tsp. pepper
1 c sauerkraut
1/2 c meat stock
Pound meat quite thin and cut into pieces about 3 by 4 inches. Dice bacon and fry; add onion and cook 5 minutes. Add sugar, pepper and sauerkraut.Heat thoroughly. Place a portion of sauerkraut mixture in center of each piece of meat. Roll and tie securely with tread or fine string. Place rolls in a greased casserole and add meat stock. Bake in a moderate oven (350 ° F.)about 1 hour or until meat is tender.
Source: Agricultural Extension Service The University of Tennessee Institute of Agriculture

---
2 venison steaks
2 sliced onions
several drops worcestershire
1 can cream of mushroom soup
salt & pepper
Cut steaks into serving portions. Place in electric frying pan and add water to simmer meat, approximately 10 minutes on each side. Add remaining ingredients and more water if necessary during cooking time. Cook on low heat 175 - 200 ° until tender (about one hour). Turn meat to prevent sticking. This can be adapted for stove top, slow cooker or oven cooking.

---
1 1/2 lb (3/4" thick) venison
1 c all-purpose flour
salt and pepper
1/4 tsp. seasoned salt
1/4 c bacon drippings
2 cl garlic; minced
4 c water
1/3 c all-purpose flour
1 1/2 tsp. bottled brown bouquet sauce
1 md onion; thinly sliced
1/2 lb fresh mushrooms; sliced
hot cooked rice
Prepare venison by trimming all fat and removing connective tissues. Cut meat into serving size pieces, and pound each piece to 1/4- inch to 1/2 inch thickness. Combine 1 cup flour, 1/4 teaspoon salt, 1/8 teaspoon pepper,and seasoned salt; dredge the venison in flour mixture.
Heat 1 tablespoon bacon drippings in a large, heavy skillet; add garlic, and sauté until golden. Remove garlic, and set aside. Add remaining bacon drippings to skillet; cook venison until it is lightly browned on both sides.Remove from skillet, and set aside.
Gradually stir about 1/2 cup water into 1/3 cup flour; mix until smooth, and add the remaining water. Stir flour mixture into pan drippings; cook over medium heat, stirring constantly, until thickened. Stir in bouquet sauce, 1/2 teaspoon salt, and 1/8 teaspoon pepper.
Return venison and garlic to skillet; reduce heat. Cover and simmer 30 minutes. Add onion; cover and simmer 15 minutes. Add mushrooms; cover and simmer 15 minutes. Serve over rice. 6 servings.
From Chip Melton of Florida in October, 1981 "Southern Living"

---
Country Style Venison Stew (new)

1/2 lb bacon or salt pork
2 lb venison steak
4 tbs. flour
6 c water or beef stock
1 lg. tomato, chopped
2 md carrots, sliced
2 md stalks celery, sliced
2 md potatoes, in 1" cubes
1 dozen small white onions
1 tbs. chopped parsley
1 c fresh green peas
salt and pepper to taste
Cut bacon into 1" cubes and sauté in large saucepan until lightly browned.Remove and set aside. Cut venison into 1 1/2 or 2" pieces and brown over high heat in 4 T bacon drippings. Stir in flour. Lower heat and let brown 2-3 minutes, stirring several times. Add liquid and let it simmer 1 hour or more until venison begins to get tender, add more liquid as necessary. Add all the other ingredients, except peas, and continue to simmer to make a thick stew.Simmer peas in a separate pan until done. Strain and spoon over or around
stew when served. Great accompanied by buttered corn muffins and a salad.

---
3 venison chops
2 potatoes
3 medium carrots
1 small chopped onion
1 celery stalk
1/2 tsp. parsley
Brown meat, onion and celery in small amount of butter. Add cut and sliced carrots and potatoes.
Sprinkle with parsley. Add enough water to almost cover. Cover and simmer for 40 minutes (check occasionally so it does not cook dry).


---
4 lb shoulder roast of venison
flour seasoned with salt and
pepper
3 tbs. cooking oil
1 onion, sliced
1 green pepper, sliced
1 garlic clove, minced
1 can tomatoes (16 oz)
1 tbs. sugar
1/2 c dry red wine
1/2 tsp. thyme
1 parsley sprig
4 cloves, whole
20 peppercorns
2 bay leaves, crushed
12 juniper berries, crushed
Marinate meat overnight in whole milk. Discard marinade. Pat dry.
Roll roast in seasoned flour and brown in hot cooking oil in Dutch oven.
When brown on all sides, remove the roast from the pot.
In the same pan, sauté the onion, green pepper, and garlic over moderate heat for 5 minutes, stirring often. Add tomatoes, sugar, wine, and thyme to the Dutch oven and heat.
Place the parsley, cloves, peppercorns, and bay leaves on a piece of double thickness cheese cloth, and tie with a string into a bag. Add the bag to pot.
When the mixture is boiling, add the browned roast and baste with sauce.
Cover and cook at 350° F. for about 2 1/2 hours, until tender.
Baste several times with pan juices during the roasting, slice thinly, and serve with pan juices.

---
2-3 lb.. venison (or as much as you like)
1 lg. onion
1 lg. bell pepper
2 cans mushroom soup
2 cans water
Salt to taste
Brown venison in small amount of shortening. Sauté onion
and bell pepper and add to the skillet with the browned steak.Mix soup and water and pour over the meat and sautéed vegetables.Simmer 'til tender.

---
This recipe came from Country Magazine and is delicious.
2 tbs. cooking oil
2 lb. venison stew meat
3 large onions, coarsely chopped
2 garlic cloves, crushed
1 T Worcestershire sauce
1 bay leaf
1 tsp. dried oregano
1 tsp.. salt
1 tsp. pepper
peas
celery, chopped into 1" pieces
3 cups water
7 potatoes, peeled and quartered
1 lb. carrots, cut into 1" pieces
1/4 cup flour
1/4 cup cold water
1/4 tsp. Kitchen Bouquet, opt.
Heat oil in a Dutch oven. Brown meat. Add onions, garlic, Worcestershire sauce, bay leaf, oregano, salt and pepper, and 3 cups of water. Simmer,covered, for 1 1/2 to 2 hours, or until meat is tender. Add potatoes,carrots, celery, and peas. Continue to cook until vegetables are tender,30-45 minutes. Mix flour and water (1/4 cup); stir into stew. Cook and stir until thickened and bubbly. Add Kitchen Bouquet, if desired. (I do.)
Remove bay leaf. Yields 8 - 10 servings.




---
© 1999, 2000-2001-2002-2005.Going Home,All rights Reserved