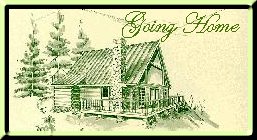 Wildplants--Dandelions
I have come across so many recipes for dandelions,I dee-cided to make them thar own little page.Don't want to bunch'em up ya know.This ain't bad for a bunch of "weeds" that homeowners have cursed for years.
Pennsylvania Dutch Dandelion
(With Cooked Dressing)
4 slices bacon, cut in small pieces
approximately 2 c. chopped new dandelion leaves
2 Tbsp. chopped onion
1/4 c. butter
1/2 c. cream or milk
1 egg, beaten
1/2 tsp. salt
dash of pepper
1/4 c. cider vinegar
2 Tbsp. sugar
1 Tbsp. flour
Toss together chopped dandelion, chopped onion and
fried bacon pieces. Set aside. In skillet warm butter and
cream until butter melts. Into beaten egg, mix salt, pepper,
vinegar, sugar and flour. Blend the egg mixture into the
slightly warm cream mixture. Increase heat and cook, stirring
constantly until the mixture thickens. Pour hot dressing over
the greens and toss gently. Serve at once. This serves 4 or
5. Gather the dandelion leaves early in the spring before the
plants flower or they will be bitter. The dressing is also
good over endive or fresh spinach.

---

Dandelion Honey

Place 3 double handfuls (cup your two hands together) of unwashed dandelion blossoms into 1 liter of water and bring to a boil. Remove from heat and let stand overnight. Next morning, remove the flowers from the water, squeezing well with the hands to remove as much water as possible. (Squeeze the water back into the pot.) Discard the blossoms.

To the liquid in the pot, add 2 pounds of sugar and a thick slice of
lemon. Bring to a boil, reduce heat and, stirring frequently, let simmer
until the mixture reaches the consistency of honey. Let cool, pour into a jar and store, covered, in a cool place.

Note: Since the dandelions must not be washed, they must be gathered from places where they're guaranteed to be clean and uncontaminated by
pesticides.
Please be sure and don't pick them in public parks, which are regularly sprayed with pesticides and fertilizers and where people like to walk their dogs.

Source: alt.creative-cooking

---
The unopened buds can be battered and deep fried, having a taste similar to mushrooms.The greens are good boiled,but make sure they dandelion isn't flowering or there will be a bitterness.Roots of the dandelion can
roasted, ground and added to coffee .The flowers can make a wonderful wine.Any you thought they were just pesky weeds!
The flowers, fully bloomed, can be batter fried in a sort of fritter.
Remove the green bracts and dip the flowers in the batter of your
choice. The following is recommended:
Beat 1 egg with 1c milk
Blend in 1 c flour, 1/2t baking powder and 1/2t salt.
The flowers can also be added to salads as an edible garnish.
---
8 oz Dandelion flowers
33 7/8 fl Water
6 1/2 oz Sugar PER
1 c Juice
1 Lemon; juice
2 Oranges
Wash the oranges and cut into pieces without peeling them. Wash the
dandelion flowers and dry them in a soft cloth. Cook them in the water
with the oranges for an hour then strain. Measure the juice, and then
add the lemon juice and the appropriate weight of sugar. Cook a
further hour. Cool before potting into jars.
---

Dandelion Soup - a Kitchen Witch's Cookbook

2 tb Butter
2 tb Flour
2 c Milk
2 c Dandelion Flowers
1/8 ts Celery Seed
1/8 ts Thyme
1 Bay Leaf

Melt butter in a medium saucepan over low heat. stir in the flour to
make a roux. Stir in the milk a little at a time until smooth. Mix
in the dandelions, celery seed, thyme, and bay leaf. Simmer until the
flowers are tender, 15-20 minutes.

(The book notes that Oliver Wendall Homes likens the color of
dandelion to "sparks that have leapt from kindling sun's fire.")
---

Sauteed Dandelion Blossoms

Yield: 3 Servings

2 c Dandelion blossoms
2/3 c Cracker crumbs
1 Egg, beaten
2 tb Milk

Combine egg and milk. Dip flowers first into egg mixture, then into
cracker crumbs. Saute in oil for one minute on each side. Serve hot.

From: Clark E. Derr



---
Dandelion Wine is made from the flowers. If you're feeling
particularly motivated, here's how to go about making it:
Gather 1 gallon of dandelion blossoms. In a large container, mix with:
2 unpeeled lemons
2 unpeeled oranges
2 *peeled* grapefruit
1 cup raisins
1 cup sugar
Add boiling water to cover, stir, and let cool.
Stir in a package of dry baking yeast.
Cover. Stir daily for a week.
Strain the mixture through a couple layers of cheesecloth, squeezing
well to extract all the juices. Add 4 cups or sugar- or to taste. Let
this mix sit a further 5 days.
Now pour the filtered mix into bottles, but don't seal the bottles
yet. Wait until all fermentation has ceased, then cork or otherwise
seal the bottles, and let them age. How long? Well, the longer the
better.
This is a rather labor intensive activity, which is why it seems to be
restricted to people who have a lot of time on their hands.
Roots
The root of the dandelion can be roasted and ground to make a coffee
like beverage, as can the roots of the chicory, to which the dandelion
is related. They can also be scraped, boiled, sliced and sauteed,
like carrots, or pickled.
From: Michael J Edelman

---

Dandelion Jelly


Yield: 5 half pints

1 qt Dandelion blossoms
2 qt Water
2 tb Fresh lemon juice
1 3/4 oz Powdered fruit pectin
5 1/2 c Sugar

Pick bright, fresh dandelion blossoms and pack the quart container
pretty tightly. This is going to require a lot of dandelion blossoms!
Rinse quickly in cold water to remove any insects/dirt on the petals.
Don't leave the blossoms in the water for very long though, as they
will be a little the worse for wear.

Snip off the stem and green collar under each blossom,so that only the petals are left. This takes about four hours!

In an enamel saucepan, boil the dandelion petals in water for 3
minutes, or a little longer, until the water takes on their color. (I
boiled the petals for 4 minutes until I liked the color better.)

Cool and strain, pressing against the petals with your fingers to
extract all of the dandelion juice. (Or you can line a sieve with moistened cheesecloth and strain it that way.)

Measure out 3 cups of dandelion liquid. Add the lemon juice and fruit
pectin. Stir to combine.

Bring to a boil, using a large kettle. Add the sugar, stirring to mix
well. Continue stirring and boil the mixture for 2 and 1/2 minutes.

Pour into hot sterilized jelly jars and seal. Process for five
minutes in a boiling water bath.

Yield: Five 1/2 pint jars.



Recent research has shown the dandelion to be nature's richest vegetable source of cancer-fighting beta-carotene. It is also richer in potassium than bananas, in iron than spinach and the flowers are richer
in lecithin than soybeans. On top of all that, we now learn that dandelions contain all the trace minerals the body needs for good health .




Dandelion Tea (Reading purposes only--no medical advice intended.)

Infuse 1 oz. of dandelion in a pint of boiling water for 10 minutes; decant, sweeten with honey, and drink several glasses in the course of the day.

Or take 2 oz. of freshly-sliced dandelion root, and boil in 2 pints of water until it comes to 1 pint; then add 1 oz. of compound tincture of horseradish. Dose, from 2 to 4 oz.
Use for a sluggish state of the liver.

Or 1 oz. dandelion root, 1 oz. black horehound herb, 1/2 oz. sweet flag root, 1/4 oz. mountain flax. Simmer the whole in 3 pints of water down to 1 1/2 pint, strain and take a wineglassful after meals for biliousness and dizziness.


"This pesky weed is a dieter's friend, aiding digestion and cutting back on snack attacks.Dandelion leaves prompt the release of enzymes that break down carbohydrates, so our bodies are less likely to store them as fat."

"Dandelion has also been shown to help regulate blood sugar. That's good news for dieters because swings in your blood sugar level can lead to cravings and fatigue."(sent in by reader who did not want name used)
---
2 quarts dandelion flowers
3 lbs. granulated sugar
1/2 oz. yeast
1 lemon
1 orange
1 gallon boiling water
Pick the dandelion flowers (heads only) on a fine day when
the flowers are open. Wash the flowers very well to remove
any insects, etc., and put them in a large bowl. Thinly slice
the lemon and orange and add the slices to the dandelion
flowers. Pour one gallon of boiling water over the dandelions
and stir well. Cover the bowl and let stand for 10 days.
After ten days, strain the liquid off into another bowl and stir
in 3 lbs. granulated sugar. Spread 1/2 oz. of yeast on a slice
of toast and float on top. Cover the bowl and leave it set for
another 3 days.
After three days remove the toast and strain the liquid again,
then bottle.
---
Dandelion Flower Fritters

1 c Flour
2 tb Olive Oil
2 ts Baking Powder
1 c Dandelion Flowers
1 pinch Salt and pepper
1 ts garlic powder
1 Egg
Vegetable-Oil In a bowl mix together flour, baking powder
and salt. In a separate bowl, beat egg, then mix with milk or
water and olive oil. Combine with dry mixture. Stir in
dandelion flowers and spoon into hot grease. Fry until
golden brown.
Add a tablespoon or two of sugar and replace the garlic, salt
and pepper for ground cloves, nutmeg or cinnamon and toss
in powdered sugar for a delightful sweet snack.

---

Potatoes And Dandelions

To many of my recipes are guess-that-will-do and I am
horrible about measuring anything. The following recipe is a
prime example of how I cook. The ingredients are listed but
the measurements are up to you (the chef and creator for
your table).
Clean and wash dandelion roots thoroughly. Boil potatoes
and dandelion roots and cook till both are tender. Remove
from water (the water makes excellent base for soups),
mash potatoes and dandelions and add chopped parsley,
garlic, basil and one medium diced onion. In lg. skillet, sauté
garlic and red pepper in olive oil about a minute. Add
potatoes and dandelions and continue to cook another 15
minutes. Enjoy with fresh crusty Italian Bread and dry red
wine.

---
2 c Mixed fresh greens
such as chervil, chives, dill, sorrel, nasturtium leaves, and
dandelion leaves
2 Shallots; peeled
1 c Plain yogurt
1/2 c Cottage cheese
Green sauce has been made for centuries by crushing
seasonal herbs and greens with a mortar and pestle. It is
traditional to use any seven herbs and greens since seven
is a lucky number. Combine the ingredients in a blender or
food processor and mix to desired consistency. Keep
refrigerated. This recipe is great mixed in with a hot baked
potato or a creamy sauce.

---

Dandelion Crown Salad

Cut crowns finely crosswise, add a pinch of salt, a pinch of
sugar and one small onion chopped. Set aside in a glass
bowl. Fry 2 or 3 slices of bacon and chop fine. When bacon
is crisp, remove it and add 2 tablespoons of cider vinegar to
the hot bacon fat. As this boils up pour it over the chopped
dandelion crowns and stir. Garnish with crisp bacon bits and
boiled egg and serve immediately.
---

Dandelion coffee can be made from the roots at anytime
of the year. Spring is still the best time to collect them as
they are full of the natural food stuffs plants store over the
winter. Simply dig and wash your roots and roast at 250
degrees for roughly 2 to 4 hours. Time for roasting depends
totally on the thickness of the roots. When roots are a
golden color and break easily in your hand, grind them and
store in an air tight container. This is good blended with chicory
and regular old store bought coffee.

---

Wild Green Salad

1 c Wild onions well chopped
1 qt Watercress
¼ c Sheep sorrel
1 ½ c Dandelion leaves

Dressing
1/3 c Sunflower seed oil
1/3 c Cider vinegar
3 tablespoons Maple syrup
¾ teaspoon Salt
¼ teaspoon Black pepper

Toss together the salad ingredients. Combine the dressing
ingredients and mix well. Toss the salad in the dressing and serve.

---
2 c Dandelion greens
2 Eggs
1 1/2 c Flour
1/2 ts Salt
This recipe also works for other greens such as beet greens
or chicory. When making the pasta, adjust the amount of
flour to the moisture of the greens.
In a blender put dandelion greens and eggs, blend until
smooth. Transfer to a bowl, add salt and start adding flour
while beating with a spoon. Keep adding until dough is stiff.
Turn out onto floured surface and knead until smooth
(approximately 5 minutes). Roll out with rolling pin to
1/8"-1/4" thickness or thinner. Allow to stand and dry 1 hour,
then cut into strips. Drop into boiling water and cook 1-2
minutes.
---
2 c Dandelion Blossoms
1 Egg -- beaten
1 c Milk
1 c Flour
1/2 ts Salt
1/4 ts Pepper
Fat For Frying
Pick the dandelions as close to the head as possible (the stems are
very bitter). Rinse well; pat dry with paper towels. Beat the egg,
milk, flour, salt, and pepper in a small bowl. Dip each flower into
the batter. Deep-fry in oil that is hot but not smoking (350F - 375F),
until golden brown. Drain on paper towels and sprinkle with salt.

---
Yield: 6 Servings
4 To 6 potatoes
2 qt Basket or more dandelions
1/4 c Olive Oil
2 To 3 Cloves garlic; chopped
1/2 ts Red Hot Pepper; crushed
Dandelions are FREE. If fresh picked, best before they flower. Clean
and wash thoroughly. Boil potatoes in lg. pan about half an hour;
depending on size, add dandelions and continue cooking till both are
tender. Remove from water (water makes excellent base for soups, peel
and mash potatoes, cut dandelions if large, and mix together. In lg.
skillet, saute garlic and red pepper in olive oil about a minute. Add
potatoes and dandelions and continue to cook another minute. Add
potatoes and dandelions and continue to cook another 15 minutes.
Enjoy with fresh crusty Italian Bread and dry red wine. You may also
used leftover mashed Potatoes. Brought to Ellis Island in 1937.
---
(from Fine Old Recipes, Culinary Arts Press, 1936
1/2 c Cream
2 ea Egg
1 tb Sugar
1 ts Salt
4 tb Vinegar
1/4 c Butter
Paprika
Pepper
4 ea Sl Bacon, thick
1 bunch Dandelion Greens (Can substitute dandelion
crowns)
Carefully wash and prepare the dandelion as you would lettuce. Roll in cloth and pat dry. Then put into a salad bowl and place in warm place. Cut bacon in small pieces, fry quickly and drop over the dandelions. Put the butter and cream into a skillet and melt over a slow fire. Beat eggs, add
salt, pepper, sugar and vinegar and mix with slightly warm cream mixture. Pour into skillet and under increased heat,stir until dressing becomes thick like custard. Take off and pour piping hot over dandelion. Stir thoroughly. Never use dandelion after it has begun to flower, for then it is apt to be bitter.
---
1/2 lb tender, fresh dandelion greens
1/2 cup thinly sliced red onions
2 tomatoes, cut in fourths.
1/4 lb sharp cheddar cheese, grated
1/2 tsp black pepper
1/4 cup salad oil
3 Tbsp vinegar
1 tsp dill
Wash the dandelion greens carefully. Drain well and cut into pieces. Add the onions, tomatoes, and cheese. Toss to mix.Make a salad dressing by mixing the pepper, salad oil,vinegar, and dill. Dress the salad, toss, and serve.

---
WARNING. Contact dermatitis has been reported from handling dandelions. This is most likely from the latex in the leaves and stems. Do not eat dandelions from lawns that have been chemically treated with herbicides, preemergents or weed-and-feed type fertilizers.
---
15 dandelion flowers flowers, rinsed in water but still slightly moist
1/2 cup flour
2 tbsp butter
Dredge moist flowers in flour. Heat butter in a heavy frying pan. Add flowers.
Dredge moist flowers in flour. Heat butter in a heavy frying pan. Add flowers and fry quickly, turning to brown all sides. Serve hot. Tastes like mushrooms.
---
1 tbsp sweet/unsalted butter
20 dandelion buds
4 eggs
1 tbsp water
4 dandelion flowers
Melt butter in a 10-inch frying pan over medium heat. Add buds, cooking until they start to open into flowers. Whisk the eggs and water until the mixture is light and frothy. Slowly pour the eggs into the cooked buds, stirring gently as the eggs set. Cook to desired consistency. Serve garnished with dandelion flowers.
---

Dandelion Syrup for use over pancakes or waffles. Think how much fun the kids would have creating and eating this meal! The play factor here is appealing to munchkins. Just make sure they pick them at the middle of the day when they are drier. To make a good supply, you'll need:

4 ea. big handfuls of dandelion tops
1/2 ea. lemon, juiced
1 quart cold water
2 lbs. sugar

Place the tops in the water and bring to a slow boil. Let boil half a minute then cool overnite. The next day, strain and push out the excess water. Discard the blooms and save the dandelion water. Mix this water with the lemon and sugar and simmer until most of the water has evaporated. Do not bring to a hard boil.

Let the mixture cool, then simmer again until thick in consistency like maple syrup. This can be poured over flapjacks either warm or cool.




---
© 1999, 2000-2001-2002-2005.Going Home,All rights Reserved