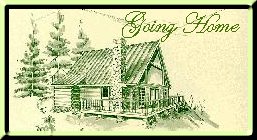 Pork



I'd like you to meet,Tildy Turtle.She just joined Going Home and will be your guide while you're here.If you're lookin' fer anythin' special,ask her real nice like and she'll help you.





---
Although you probably won't ever find a "receipt" for it,one of my favorite pork dishes is neck bone and taters.Mom would place her big kettle on the coal burning heater in the living room early that morning.With the neck bones simmering all day,the broth was good and rich.A while before serving,she would add quartered potatoes,allowing enough time for them to stand in the broth so they would absorb the flavor.Pouring the pot liquor over the potatoes and cornbread made this a fine winter meal.It's amazing how the taste is so much better when a lot of recipes are simmered and not cooked at 100 miles an hour like we tend to do now.

---
Fresh Ham (uncured)

1 whole fresh ham (uncured), 10 to 15 pounds
Preheat oven to 325 degrees F.
Place uncovered in the oven for 18 to 20 minutes per pound, or until the internal temperature reaches 160 degrees F on a meat thermometer. When done, let the ham rest for a few minutes before slicing.
During the baking process,brush this glaze over the ham and pineapple slices.This would be best done during the last 30 minutes of cooking.
3 cans pineapple or 12 large slices--using toothpicks to anchor them,place these pineapple slices evenly over the ham,brush with glaze,return to oven.
HAM GLAZE:
Combine 1 cup maple flavored syrup
3/4 cup packed brown sugar
2 tablespoons prepared mustard in small saucepan; heat until blended.
---

I admit it--this is one of my favorites.

5 lb. of neck bones
1 onion, chopped
2 large cans sauerkraut
salt
pepper

Cover neck bones with water. Add the onion. Let simmer until the water is
almost gone and the meat is tender. Drain the sauerkraut and rinse in a colander.
Place sauerkraut on top of neck bones. Add salt and pepper to taste. Simmer until the
water has gone almost to the bottom of the pan (about 35 minutes). Serves 6.

---
pork bellies
salt
cayenne pepper
water
Cut pork bellies into 1-1-1/2 inch squares. Place in iron pot on gas burner,
add water to pot to 1/2 of pork. Light burner and gradually bring heat to
about 200°, stirring with a paddle to prevent sticking. Maintain stirring
while gradually raising heat to about 250-275°. Liquid will turn white.
Continue to stir gently without pulling meat apart. Gradually cracklins will
brown and the rendered grease will turn into a clear liquid. Cracklins will
begin to pop with blisters appearing on the skins. When cracklins are
floating and are turned to a golden brown, remove from pot with skimmer and
set aside. Continue to heat grease until temperature reaches 400°. Pour set
aside cracklins into hot grease. When large blisters begin to appear stir
vigorously for 1-2 minutes. Turn off burner and remove cracklins immediately
with skimmer. Salt and pepper to taste while they are hot.
Date: Mon, 26 Mar 2001 16:32:21 -0600
From: "Mike Kreko" <mkreko@i-55.com>
Newsgroups: alt.food.cajun

---
3 lb.. spareribs or country style ribs
4 cups sauerkraut undrained
2 tart apples peeled and chopped
1 1/2 tsp. salt
1/4 tsp. pepper
2 tbs. firmly packed brown sugar
1 small onion
!/4 cup water
Heat oven to 450°. Cut ribs into serving pieces. Place in 13 x 9 in
pan. Season with salt and pepper. Bake uncovered for 20 minutes. Reduce
temp to 350°. Remove ribs; drain fat from pan. In same pan combine
sauerkraut, brown sugar, apples, onions and water; spread evenly. Arrange
ribs on top. Bake uncovered for 1 1/2 to 2 hours or until ribs are tender
stirring occasionally.

---
10 to 12 lb. ham
2 tbs. powdered crackers
pepper
2 tbs. brown sugar
whole cloves
Soak ham for 12 hours. Cook slowly in water for 4 to 5 hours until tender. Cool in own liquid. Remove outside skin.
Make crisscross gashes in top of ham, sprinkle cracker dust and brown sugar on top. Sprinkle with pepper, stick whole cloves into ham, then place in roasting pan and bake in moderate oven for 30 to 60 minutes.

---
Smoked Sausage and Black eyed Peas
1 pound smoked sausage
1 cup chopped yellow onion (1 medium)
1/2 teaspoon salt
1/4 teaspoon cayenne
4 cloves of garlic
5 sprigs of fresh thyme
4 bay leaves
3 teaspoons finely chopped parsley
8 cups chicken stock
1 pound black eyed peas
1 tablespoon minced garlic
6 cornbread muffins
1 tablespoon chopped green onions
In a large pot, over medium heat, render the sausage for 5 minutes. Stir in the onions, salt, cayenne, garlic, bay leaves, thyme and parsley. Sauté; for 5 minutes, or until the onions are wilted. Stir in the chicken stock, peas and garlic. Bring the liquid up to a simmer and cook for 1 1/2 hours, or until the peas are tender. Spoon the peas and sausage in the center of a shallow bowl.
Garnish with green onions. Serve with cornbread muffins.

---
From Jeanne Voltz's "The Flavor of the South":
Scour ham vigorously with a brush and lukewarm water to remove excess
seasonings and any mold. Place in large pot such as roaster or canning kettle (lard can works fine).
Cover with cold water and soak overnight. If a less salty ham is desired, change water after 3-4 hours.
Drain well, cover ham with fresh cold water, bring to a boil, cover, and
simmer 4-6 hours until meat is tender and shank bone pulls away from meat. Cool ham in broth or remove from broth and cool on board. Preheat oven to 350 °. Cut off ham skin. Score fat and stud with cloves. Place ham in shallow pan. Mix equal parts of bread crumbs and brown sugar and press onto ham. Bake until glazed, about 30 minutes.
Refrigerate overnight. Slice paper thin, carving from shank toward butt
end. Serve in hot biscuits, if desired. Leftovers can be wrapped airtight and stored in the refrigerator for several weeks.
---

Caramel Apple Pork Chops

4 boneless pork loin chops, 3/4 inch thick
1 tsp. oil
2 tbs. brown sugar
Salt and pepper, to taste
1/8 tsp. cinnamon
1/8 tsp. ground nutmeg
2 tbs. butter
2 medium tart red apples, cored and sliced into 1/2 inch wedges
3 tbs. chopped pecans, optional

Heat skillet over medium-high heat. Brush chops lightly with oil and cook for 5-6 minutes,turning occasionally, until evenly browned. Remove; keep warm. In a small bowl combine brown sugar, salt, pepper, cinnamon and nutmeg.

Add butter to skillet; stir in brown sugar mixture and apples. Cover and cook for 3-4 minutes or just until apples are tender.
Remove apples with a slotted spoon and arrange on top of chops; keep warm. Continue cooking mixture in skillet, uncovered, until sauce thickens slightly. Spoon sauce over apples and chops. Sprinkle with pecans, if desired.


Servings: 4

---

Hearty Ham Kabobs

1 green pepper, cubed
1 med. onion, cut into wedges
2 cups cubed fully cooked ham(1 1/2 inch pieces)
12 cherry tomatoes
1 can (20 ounces) pineapple chunks,drained
1 cup bottled Italian salad dressing
1 tsp. Worcestershire sauce
Hot cooked rice


Blanch the green pepper and onion if desired. Thread alternately with the
ham, tomatoes and pineapple onto four to six metal skewers. Combine the
salad dressing and Worcestershire sauce; baste over kabobs. Broil or grill,basting occasionally, until all ingredients are heated through, about 6 to 8 minutes. Serve over rice. Yield: 4 to 6 servings.

---
1 1/2 lb. fully cooked ham, cut into 24 cubes (1 inch pieces)
2 med. oranges, peeled and cut into eighths
1 large green pepper, cut into 16 pieces
1 large sweet red pepper, cut into 16 pieces
1/2 cup orange juice
2 tbs. tomato paste
1/4 tsp. ground ginger
On eight metal skewers, alternately thread three ham cubes, two orange
pieces, two green pepper pieces and two red pepper pieces. Place on a
broiler pan with rack; broil 4 to 5 inches from the heat for 8 minutes,
turning occasionally. In a small bowl, combine the orange juice, tomato
paste and ginger; mix well. Brush half over kabobs; broil 2 to 3 minutes.
Turn kabobs and brush with the remaining sauce; broil 2 minutes more or
until the vegetables are tender. Yield: 8 servings.
---
1 can (16 ounces) sliced peaches
1 ham slice (about 1 1/2 pounds)
1 tbs. butter or margarine
1 tbs. sugar
2 tsp. cornstarch
1/8 tsp. nutmeg
1/2 cup orange juice
1 tbs. lemon juice
Hot cooked rice
Drain peaches, reserving 1/2 cup syrup; set aside. In a large skillet,
brown ham slice on both sides in butter over medium heat. Remove ham to a platter and keep warm, reserving drippings in skillet. In a small bowl, mix sugar, cornstarch and nutmeg. Add orange juice, lemon juice and reserved peach syrup; stir until smooth. Add to drippings in skillet. Cook until thick, stirring constantly. Stir in peaches and heat through. Add ham slice and heat for 2 to 3 minutes. Cut into serving size pieces. Serve over rice.
Yield: 4 to 6 servings.
---
2 eggs
1/2 cup milk
1 cup finely crushed saltines
1/4 tsp. pepper
1 1/2 lb. ground fully cooked ham
1 lb ground fresh pork
Sauce
1 cup packed brown sugar
1 tsp. prepared mustard
1/3 cup vinegar
1/4 cup water
1 can (8 ounces) crushed pineapple,undrained
In a large bowl, beat the eggs; add milk, crackers and pepper. Add the ham and pork; mix well. Shape into a 9x4 inch loaf and place in a shallow
baking dish; insert a meat thermometer. In a small bowl, combine sauce
ingredients; pour over loaf. Bake at 350 ° until thermometer
registers 170 degrees, about 1 1/2 hours, basting frequently. Yield: 6 to 8 servings.
---
1 lb ground fully cooked ham
1 can (16 ounces) sauerkraut, drained and chopped
1/4 cup finely chopped onion
3/4 cup plus 2 tablespoons dry bread crumbs, divided
1 pkg. (3 ounces) cream cheese,softened
2 tbs. chopped fresh parsley
1 tbs. prepared mustard
1/4 tsp. garlic powder
1/8 tsp. pepper
1/4 cup to 1/2 cup all purpose flour
2 eggs
1/4 cup milk
Oil for deep fat frying

In a large bowl, combine ham, sauerkraut, onion and 2 tablespoons of the
bread crumbs. In another bowl, combine cream cheese, parsley, mustard,
garlic powder and pepper; stir into sauerkraut mixture. Chill for at least
1 hour or overnight. Shape into 3/4 inch balls; coat with flour. In a small
bowl, beat eggs and milk. Dip ham balls into the egg mixture, then roll in
the remaining bread crumbs. Heat oil to 375 ° in a deep fat fryer or electric skillet; fry ham balls until golden brown. Drain. Yield: 60
appetizers.

---

Stuffed Company Ham


2 lb. bulk pork sausage
1 cup chopped celery
1 cup chopped onion
1 unpeeled apple, diced
3 cups soft bread crumbs
1/2 cup mincemeat
1/2 cup chopped fresh parsley
2 tsp. dried thyme
1 fully cooked boneless ham (6 to 7 pounds)
1/2 cup apple jelly or honey
3 tbs. Dijon mustard

Chutney Baked Pears
1 cup water
2 tbs. lemon juice
6 ripe pears, peeled, halved and cored
1 cup chutney
1/2 cup apple juice
2 tbs. .butter or margarine, melted

In a skillet, brown and crumble sausage. Drain. Add the celery, onion and
apple; cook over low heat, stirring occasionally, until celery is tender.
Remove from heat; stir in crumbs, mincemeat, parsley and thyme. Mix well.

On top of ham, cut two full length wedges, about 1 inch wide and 3/4 in
deep, 3 inches apart. Spoon about 1/2 cup of the stuffing into wedge. Place remaining stuffing in a greased 1 1/2 quart covered baking dish; refrigerate. Place ham in roasting pan and cover loosely with a foil tent.
Bake at 325 ° for 2 1/2 hours. In a saucepan, heat jelly and mustard until jelly melts. Brush some over ham; return ham to the oven, uncovered,for 30 minutes, brushing occasionally with jelly mixture. Also place covered baking dish of stuffing in the oven at this time. For pears, mix water and lemon juice. Dip pear halves and drain. Place with cut sides up in a greased 13x9x2 inch baking pan. Mix chutney and apple juice; pour over pears. Drizzle with butter. Remove ham from oven; cover with foil and let stand 30 minutes before slicing. While continuing to bake stuffing, bake pears, uncovered for 30 minutes, basting occasionally. Yield: 12 to 14 servings.
---

Spare Ribs - Red & Hot

serves 6
4 pounds country style pork ribs
1 small onion, chopped(I use 1 large)
1 garlic clove, minced(I use more)
1 tbs. cooking oil
14 oz bottle (1 1/2 cups) catsup
1/3 cup vinegar
1/4 cup molasses
1 tbs. bottled hot pepper sauce
2 tsp. ground red pepper or less to taste
1 tsp. chili powder
1/2 tsp. salt
1/2 tsp. dry mustard

In a large saucepan or dutch oven cook ribs, covered, in enough boiling
salted water to cover for 45-60 minutes or till ribs are tender,darin well.
Meanwhile for the sauce, In a medium saucepan, Cook onion and garlic in hot cooking oil until onion is tender or limp but not brown. Stir in everything else.
Bring the mixture to boiling. Reduce heat. Simmer, uncovered for 15 minutes, stirring occasionally. Grill ribs over slow coals for 45 minutes, turning every 15 minutes. Brush with sauce frequently.

Note: You can place the ribs in a roasting pan, pour over the sauce, cover and roast for 40 minutes. Then remove from sauce, transfer to aluminum disposable or foil lined pans and broil for 5-8 minutes or until the edges crisp just a tad. serve remaining sauce on the side.

Source: Better Homes and Gardens Hot & Spicy Cooking

---

Dixie Pork Chops

Serving Size : 8

8 center cut pork chops
1/2 tsp. salt
1/2 tsp. sage
2 tbs. vegetable oil
4 Granny Smith apples -- cored and sliced
1/4 cup brown sugar
2 tbs. all-purpose flour
1 cup chicken stock
2 tbs. vinegar
3/4 cup raisins

Preheat oven to 350 °. Season pork chops with salt and sage. In a
large skillet over, medium heat, brown pork chops in oil. Remove from skillet and place in an oven proof casserole. and top with apple slices. Sprinkle brown sugar over top. Add flour to remaining fat in skillet and stir. Add water and vinegar and cook until thickened, stirring constantly. Add raisins then pour mixture over chops. Cover with aluminum foil and bake 35 minutes. Remove foil and continue to bake 25 minutes longer.
Recipe By : Mrs. Ned Mitchell - Charleston, SC.

---
Serving Size : 4
4 pork chops
3 tsp. olive oil
8 ounces tomato sauce
1/2 cup chicken stock
1/4 cup red wine
1 tsp. Worcestershire sauce
1/4 tsp. salt
1 tsp. oregano
8 small new red potatoes -- quartered
4 carrots -- cut lengthwise
In a large skillet, or Dutch oven, brown pork chops on both sides in
olive oil. Add tomato sauce, wine, chicken stock, Worcestershire sauce,
salt, oregano, potatoes and carrots. Bring to a boil, cover, reduce heat
and simmer 45 minutes, or until pork chops are tender.
Recipe By : Internet Chef On Line Recipe Archive
---

Pork Chops with Sweet Potato Gravy

Serving Size : 4

4 pork chops -- cut 1 inch thick
2 tsp. RUSTIC RUB *
2 tbs. vegetable oil
2 tbs. all-purpose flour
1 1/2 cups onion -- thinly sliced
1/2 cup pecans -- chopped
2 cups water
1 tsp. salt
1/4 tsp. cayenne pepper
1 pound sweet potatoes
3 tbs. Karo Syrup
1/4 cup green onion -- chopped

Preheat oven to 400 ° and bake sweet potatoes until softened, about 1 hour. Let cool, peel, mash and set aside.
Season pork chops with the rub. Heat oil in a large skillet, over medium
high heat, and brown chops, about 5 minutes per side. Transfer to a platter and set aside. Reduce heat to medium. Add flour and cook 3 minutes,stirring constantly, until roux is dark brown. Add onion and cook, stirring occasionally, until wilted, about 5 minutes. Add pecans, water, salt and cayenne. Mix well, bring to a boil and add sweet potatoes. Stir until mixture is smooth. Stir in Karo syrup and green onion.
Return pork chops to pan and simmer 6 minutes, basting chops with gravy.

Note : *RUSTIC RUB Recipe is below
---

Rustic Rub

Serving Size : 10

8 tbs. paprika
3 tbs. cayenne pepper
5 tbs. fresh ground black pepper
6 tbs. garlic powder
3 tbs. onion powder
5 tbs. salt
2 1/2 tbs. oregano
2 1/2 tbs. thyme

Combine all ingredients in a mixing bowl and blend well.
- - - - - - - - - - - - - - - - - -
Note : Store in an airtight container for up to 3 months with your
other spices.
---
Pork Chops, Sausage and Sauerkraut
Serving Size : 14
2 pounds sauerkraut -- drained
1 Granny Smith apple -- peeled and cored
4 pork chops
salt and pepper -- to taste
4 Italian sausage
2 tbs. vegetable oil
3/4 cup onion -- finely chopped
1 tsp. garlic -- minced
2 cups dry white wine
1 bay leaf
1/2 tsp. thyme
1 1/2 cups chicken stock
6 juniper berries
1/2 tsp. caraway seed -- optional
2 whole cloves
Slice apple into quarters then into 1/2 inch cubes. Sprinkle pork chops
with salt and pepper.
Heat oil in a casserole and add the pork chops and sausages. Cook until
brown on one side, about 4 minutes. Turn chops and sausages and cook
another 4 minutes on second side. Remove from pan, set aside and keep warm.
Pour off fat from casserole and add onion and garlic. Stir and cook
briefly. Add apple, wine, bay leaf and thyme. Add sauerkraut and stir to
distribute evenly.Add chicken stock, juniper berries, caraway seeds, if
using, cloves and stir. Return pork chops and sausage to pan. Bring to a
boil, cover, reduce heat and simmer 45 minutes.
Remove bay leaf and serve.
Recipe By : Cuisine Rapide - Pierre Franey & Bryan Miller
---
Serves 2
2 lean pork chops
1 cup flavored bread crumbs (recipe below)
1 egg, beaten
3 medium potatoes, peeled and diced
2 tsp. soy sauce
¼ tsp. garlic powder
1 medium onion, sliced
black pepper to taste
oil for browning
Dip the pork chops in the egg. Coat each chop with bread crumbs. Dip the
chops in the egg again. Coat the pork chops with bread crumbs again. Press the chops between your hands so that the bread crumbs stick.
Heat some oil in a saucepan. Brown the chops on each side. Set aside.
In a large baking dish, add the potatoes, soy sauce, garlic powder, black
pepper and onions. Toss.
Push the potatoes aside and add the chops. Put the potatoes over and
around the pork chops.
Bake covered in a preheated 375º F oven for ½ hour stirring potatoes
frequently. Remove the cover and bake for another 15 minutes.
Seasoned bread crumbs:
Makes one cup
1 tsp. dry oregano
1½ tsp. dry parsley
½ tsp. dry sage
½ tsp. garlic powder
3 tbs. grated Romano cheese
1 cup plain bread crumbs
black pepper to taste

---
1 pound sliced bacon
1 medium onion, finely chopped
3 cups cooked rice
1/4 cup all-purpose flour
2 1/2 cups milk
1/2 tsp. salt
1/8 tsp. pepper
1/2 cup grated Parmesan cheese
2 small zucchini, coarsely shredded
1/3 cup sliced ripe olives
Cut bacon crosswise into 1 inch pieces. Cook in skillet over medium heat until crisp; remove to absorbent paper. Reserve 3 tablespoons drippings. Return 1 tablespoon drippings to skillet; add onion and cook until transparent.
Spread rice in an 11 3/4x7 1/2 inch baking dish; top with half the bacon and onion.
Combine flour and remaining 2 tablespoons drippings in saucepan; mix well. Gradually add milk and cook over medium heat until thickened and bubbly, stirring constantly. Stir in salt, pepper and Parmesan cheese. Pour 1 cup sauce over bacon and rice. Top with zucchini and olives. Sprinkle with remaining bacon; pour remaining sauce over top.Cover tightly with aluminum foil and refrigerate overnight.
Remove from refrigerator and let stand at room temperature for
15 minutes. Bake at 375 ° F. for 25 minutes. Remove the foil, and continue to bake for 20 minutes.
Servings: 6

---
6 boneless pork loin chops, 1/2 inch thick
1 tsp. EACH butter and oil
1 cup chopped onion
1/3 cup chopped carrots
1-1/4 cup chicken broth
2 tbs. sugar
2 tbs. red wine vinegar
1/2 cup cranberries

Heat butter and oil in a nonstick fry pan. Brown chops on both sides; set aside. Sauté onions and carrots until brown and tender. Return chops to pan. Add chicken broth.
Cover and cook 10-12 minutes until pork is done. Remove chops and keep warm. Add sugar, vinegar and cranberries. Cook until cranberries pop. Heat chops in sauce before serving.
Servings: 6

---
1 4-5 pound loin of pork, bone removed
2 garlic cloves, peeled
coarsely ground black pepper

Trim excess fat from pork loin and trim rib bones of all extra meat. (This is called "frenching" the bones; you can ask your butcher to do this for you.) Cut garlic cloves in half and rub all surfaces of loin, sprinkle loin generously with black pepper.
Place rack of pork, bones up, on rack in shallow roasting pan. Place in preheated 350 °F. oven and roast for 1-1 1/2 hours, about 18-20 minutes per pound, until meat thermometer inserted in center of loin reads about 155 ° F. Remove rack from oven, let rest about 10 minutes. Cut between rib bones to serve.

Servings: 6
Preparation Time: 10 minutes
Cooking Time: 75 minutes

---
Pork Tenderloin
.
1/4 cup apple jelly
2 tbs. lemon juice
1/2 tbs. pumpkin pie spice
vegetable cooking spray
1 pound pork tenderloin, trimmed
2 tart red cooking apples, unpeeled, cored, thinly sliced
Heat oven to 375 ° F. In small bowl, combine apple jelly, lemon juice and pumpkin pie spice; blend well. Spray roasting rack with non-stick cooking spray; place in shallow pan. Place pork tenderloin on prepared rack, brush with half of the apple jelly mixture. Roast at 375° F. for 20-30 minutes or until meat thermometer registers 55° F. Let stand 5-10 minutes.
Place apple slices on broiler pan; brush with remaining apple jelly mixture. Broil 5-6 inches from heat for about 5 minutes or until apple slices are tender. Slice tenderloin;serve with cooked apple slices.
Servings: 4
---
Pork Chops with Caramelized Onions & Peppers
2 boneless pork chops, 3/4 inch thick
olive oil
garlic pepper
1 medium onion, sliced
1/2 tsp. sugar
1 clove garlic, minced
1 jar (7 ounce) roasted sweet red peppers, drained and cut into strips
2 tsp. balsamic vinegar

Heat a heavy skillet over medium-high heat. Brush chops lightly with oil and generously sprinkle both sides of chops with garlic pepper. Cook chops for 5-6 minutes, turning occasionally, until evenly browned on both sides. Remove chops to a serving platter;keep warm. Add onion, sugar and garlic to skillet. Cook and stir over medium-high heat until onion is lightly browned. Stir in roasted peppers and vinegar; heat through. Serve
onion mixture over chops.
---

Peachy Smoked Pork Roast


2 pound boneless pork loin roast
1 tbs. salt
1/2 tsp. ground pepper
1 teaspoon ground ginger
2 tbs. vegetable oil
2 tbs. cider vinegar
1/2 cup brown sugar
3 tbs. chili sauce
1 -29 ounce can peach slices in heavy syrup,undrained


In blender, combine salt, pepper, ginger, oil, vinegar, brown sugar, chili sauce and undrained peaches. Blend until smooth. Place pork loin in a heavy plastic bag, pour half of peach sauce over; refrigerate, covered, overnight. Refrigerate remaining peach sauce.

Prepare grill by arranging a drip pan surrounded by medium-hot coals (if using a gas grill, heat to medium temperature). Add hickory chips, dampened with water, to heat source. Place pork on grill over drip pan. Baste often with marinade until internal temperature reaches 155-160 ° F., about 60 minutes. Let stand 10 minutes.
Slice thinly and serve with reserved peach sauce, heated.

Servings: 8

---
6 pounds pork back ribs
2 tbs. cornstarch
2 tbs. packed brown sugar
1 tbs. minced fresh mint leaves
1/4 tsp. salt
2 cups fresh orange juice
2 tbs. fresh lime juice
1 tsp. grated lime peel
1 tsp. grated lemon peel
Combine cornstarch, brown sugar, mint and salt in medium saucepan; gradually stir in orange and lime juices. Cook and stir until thickened. Remove from heat; stir in lemon and lime peel.
Cut ribs into serving size pieces. Brush ribs with sauce. Place on broiler pan. Cover with foil. Bake an 350 °F. for 1 to 1-1/2 hours or until tender. Remove foil. Brush with additional sauce. Heat remaining sauce and serve with ribs.
Servings: 6
---
Easy Oven Pork Stew with Biscuits

4 boneless pork chops, cut into 3/4 inch cubes
1 tsp. olive oil
1 23 ounce jar creamy mushroom cooking sauce for chicken
1 16 ounce package frozen peas, potatoes and carrots (New England blend)
1 14 1/2 ounce can chicken broth
1 4 ounce can sliced mushrooms, drained
1/2 tsp. dried oregano leaves
1/4 tsp. ground black pepper
1 10.8-ounce package (5) refrigerated large biscuits
Preheat oven to 350 ° F. In a large nonstick skillet heat the oil; add the pork, half at a time and cook for 2-3 minutes or until browned. Remove the pork from the skillet.
Transfer the pork to a 5 quart casserole; stir in all remaining ingredients except biscuits.
Bake, covered, for 45-50 minutes or until vegetable are tender, stirring occasionally.
Remove from oven; arrange biscuits atop; return to the oven and bake, uncovered, for 12 minutes longer or until biscuits are golden.
Servings: 5

---
Creamy Potato And Ham Casserole
12 oz evaporated skimmed milk
1 tbs. cornstarch
1/2 tsp. salt
1/4 tsp. pepper
1 tsp. oregano
1/4 tsp. nutmeg
1/2 cup white wine
3 large baking potatoes,washed-sliced thin, but not skinned
1 small onion, chopped
4 oz. deli ham, thin sliced
1 cup grated low fat Swiss cheese
2 tbs. grated Parmesan cheese
Preheat oven to 350 ° f. In a medium saucepan, heat the milk, salt,
cornstarch, pepper and nutmeg until milk comes to a boil and the sauce
thickens. Remove from heat and set aside. Coat a 1 1/2 quart casserole
dish with nonstick spray. Layer half the potato slices in the bottom and
sides of the dish. Cover with cheese, onion, ham and oregano. Cover with
remaining potatoes. Pour sauce over the top. bake for 1 hour. If desired,
place casserole under broiler for 5 minutes to brown the top.

---
1 lb. fresh sauerkraut, well drained
1 onion, diced
11 ounces canned italian styled stewed tomatoes
1/2 cup dark brown sugar, packed
3 lb.. country style pork ribs cut in to individual sections
sprinkle of celery seed
In a Crockpot Layer all ingredients, with pork ribs bone side up, in a
Dutch oven or casserole. Cover and cook on low for 8-10 hr., then 1 hour
before serving turn to high.

---
1 ham
1 pound brown sugar
6 apples, peeled and quartered
1 pint cider vinegar
1/3 cup prepared mustard
2/3 cup brown sugar
Sherry
Whole cloves
Mix together 1/3 cup prepared mustard, 2/3 cup brown sugar and enough sherry wine to make a paste the thickness of marmalade. Spread evenly over fatty portion of ham, spike with cloves and bake in 350 ° oven with apples until crust is well browned, basting occasionally with the drippings.
Serve sliced very thin.
---
1 ham
1 1/2 cups brown sugar
2 tsp. dry mustard
1/2 cup dry fine bread crumbs
12 ounces Coca Cola (tm)
cloves

Cook ham accordingly until it reaches an internal temperature of 160°F.
When cool enough to handle, pull off skin. Mix brown sugar, mustard
and bread crumbs. Coat top of ham. Score and stud with cloves.
Pour Coca-Cola around ham; cover and bake at 400°F for approximately
35 minutes. Baste with liquid every 15 minutes.
Let ham set for 30 minutes before carving. Or cover with waxed paper and cool. Cold ham slices better than hot.
15 pound ham can serve 30 people.
---
6 pork loin chops -- approx. 1/2 to 3/4-- inches thick
1 box corn flakes -- crushed, or 1 box-- corn flake crumbs
2 tbs. garlic powder
1 tbs. kosher salt
2 tbs. black pepper -- (preferably freshly-- ground)
1 tbs. rubbed sage
4 eggs -- slightly beaten
1 cup flour
Combine the corn flake crumbs, garlic powder, salt, pepper and sage
together in a large flat pan. Mix well. Beat the eggs in a medium bowl. Pour
the flour into a large bowl. Take one chop and dip it into the flour, followed by
the egg and finally the corn flake mixture. Set it aside on a lightly oiled cookie sheet
and repeat the procedure for the remaining 5 chops. Place the chops on the middle rack
of a preheated 350°oven and bake for 25 to 30 minutes,or until the internal
temperature reaches 160° for medium.
---
1 12-15 lb. country or Smithfield ham
water
Put in roaster with seven cups water and cover.Cook in a pre-heated 500 ° oven for 20 minutes. Turn oven off and do not open door. Four hours later, set oven to 500° again, when heated, bake ham 20 minutes and turn oven off. Let ham sit in closed oven overnight.The next day remove ham from oven and slice and lift hard skin from ham, exposing area of fat. Score in diamond shape, sprinkle liberally with brown sugar,
cloves and pepper. Brown for 20-30 minutes in a 350° oven.
---
Set your taste buds for a real treat!
2 lb. pork tenderloin, cut into 3/4 inch thick slices
flour for dredging
salt and pepper to taste
2 tbs. butter
2 cups milk
Trim excess fat from tenderloin. Dredge tenderloin slices in flour. Season with salt and pepper. Brown in butter at 350° in electric skillet. Reduce temperature to 225°; cover skillet. Cook for 30 minutes to 1 hour or until pork is tender. Add milk.Heat, uncovered, until bubbling hot. Serve immediately. Yield 6 to 8 servings.
---

Creamed Virginia Country Ham

3 tbs. butter
3 tbs. minced onion
3 tbs. green pepper
3 tbs. flour
1 1/2 -2 cups milk
1 cup chopped Virginia country ham
1 tbs. chopped parsley or chives
1/8 tsp. paprika
2 tbs. dry sherry(Mom would never have allowed sherry in the house)

In a skillet melt the butter over medium heat,and sauté the onion and green pepper until light brown. Sprinkle in the flour and stir a few minutes. Add the milk slowly, stirring constantly. Add the ham and simmer, stirring until thickened. Remove the pan from the
heat and season with the remaining ingredients. Serve over hot buttered toast, English or corn muffins or corn bread.

Serves 4-6.
---
1/2 tsp. ginger
1/4 tsp. garlic powder
1/4 tsp. sage
1/4 tsp. salt
1/4 tsp. pepper
5 pounds pork shoulder or fresh picnic -- or other pork roast
In small bowl, mix all spices. Rub on surface of 5 lb. pork roast. Roast on rack in shallow pan to 185° F. on meat thermometer for 3 1/2-4 hours at 325° f.
Can make gravy from pan drippings.


NOTES : This rub is very good on ANY pork roast.
---

Mustard Greens and Ham Hocks

This might seem more like a vegetable dish and it is,but the ham hocks
added,it is a meal in itself.Just had to slip this in.In Texas,there's a sayin' that "it's so good it makes you want to slap your Momma",--translated,it makes you take leave of your senses.This dish is right up there with the best of them.

2 pounds mustard greens or collard greens
2 pounds green cabbage
3 ham hocks -- smoked(about 2 pounds)
3 quarts water
1 tbs. salt
1 tsp. freshly ground black pepper
1 tsp. sugar
1 tsp. thyme -- leaves
4 medium Idaho potatoes -- peeled(about 2 pounds) cut into quarters

Wash the greens thoroughly and drain them by shaking off any excess water. Remove the very thick part of the stems from the greens and coarsely chop the leaves. Cut the cabbage into quarters and cut the core from the cabbage pieces. Coarsely chop the cabbage and set aside.

Put the ham hocks and enough cold water to cover them in a 4 quart saucepan over high heat. Heat to boiling, reduce the heat to simmering, and cook the hocks, covered, until almost tender, about 1 1/2 hours.

Stir in the chopped greens, salt, pepper, sugar, and thyme. Cook 30 minutes.
Add the cabbage and potatoes and cook until all vegetables are tender, about 30 minutes. Check the seasonings and serve hot.
---
Old Time Country Ham with Redeye Gravy
I love this stuff!
6 cured ham slices,1/2" thick
1 c water,boiling
1 tbs. coffee,freshly made black
Place ham slices in a large flat pan and cover with cold water. Let
stand 6-8 hours; drain and blot dry. Remove and discard rind.
Fry ham slices in single layer in an ungreased heavy skillet over
medium-high heat. Fry for 5-6 minutes on each side, then remove to
heated platter. Pour off all but about 2 tablespoons fat. Add boiling
water and let boil up, scraping bottom to pick up all flavorful bits
of ham from the skillet. Stir in coffee. Pour over ham slices and
serve at once.
---
Sausage Patties with Fresh Herbs
1 1/4 lb. ground lean pork
1 1/2 tbs. minced fresh thyme leaves (OR 2 1/2 tsp. crumbled dried)
1 tbs. minced fresh sage leaves( OR 2 tsp. crumbled dried, plus 1 sage sprig for garnish)
1/2 cup minced fresh parsley leaves or to taste
2 tsp. salt
3/4 tsp. white pepper
2 tbs. vegetable oil
In a bowl combine well the pork, the fat, the thyme, the minced sage, the parsley, the salt and the white pepper.
Divide the mixture into 18 balls. Flatten the balls into patties about 1/2 inch thick.
In a large skillet heat the oil over moderate heat until it is hot (not smoking) Fry the patties for 4 to 5 minutes on each side or until they are golden brown and no longer pink within.
Drain on paper towels.
Transfer the patties to a serving plate and garnish with the sage sprig

(Serves 6)
---
Well,the cows are comin' home and the critters are hongry so I'll say goodbye for now.
---
---
© 1999, 2000-2001-2002-2005.Going Home,All rights Reserved