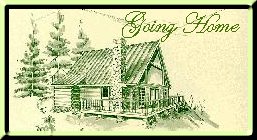 Site Index

I am trying to earn enough money to move Going Home to a domain where the pages aren't taken over by banner ads. In order to do this, I'm offering several recipes that have been handed down through the years. They won't be found on the internet.

My hot roll recipe requires no kneading and has made bakers out of everyone who's tried it. The pound cake recipe makes a large cake and will end the idea that pound cakes are dry. This will be a huge hit with your family. Also included is a lemon meringue pie that has been called the "best lemon pie ever". Anyone in the family like chocolate cake and brownies? This recipe is made like a cake but with the moist,nutty texture of a brownie. Another people pleaser.

If you're interested, the recipe page is $5.00. You can contact me at tinyt55@sbcglobal.net for details. The recipes can be made available to you online or printed out for regular mailing.

Thank you for your support over the years,
Trish

---
Post a link to your Web Site in my Free-For-All Links page...
Click Here.
---
© 1999, 2000-2001-2002-2005.Going Home,All rights Reserved